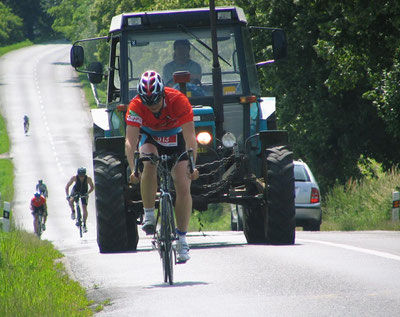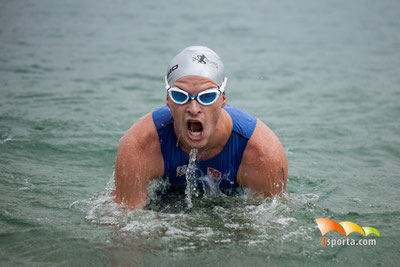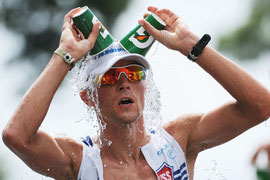 Svoje postignute rezultate i uspjehe, i neuspjehe ne zaboravljamo.
Ali, možemo li se sjetiti kako smo izgledali u određenom trenutku na određenoj utrci..?
Ponekad se zamislim i pokušavam se sjetiti kako je to izgledalo na tom i tom triatlonu. Iako neki od nas fotografski pamte, da nema ljudi sa fotoaparatom ili kamerom u ruci vjerojatno nikada ne bi sačuvali te vrijedne slike u našim glavama. Zahvaljujući njihovom dobrom oku i trudu jednog dana ću, nadam se, pokazivati unucima svoje fotografije i one neće nikada izbrisati prošlost.
O fotografiji ne znam puno, ovdje se vodim osjećajima i onime što mogu očima vidjeti, a o triatlonu još imam puno toga za naučiti. Siguran sam da uz pomoć brižnih fotografa neću nikada zaboraviti ono što volim.
Možda najpoznatiji fotografi u svijetu triatlonu su:
Michael Rauschendorfer - najpoznatiji europski fotograf u triatlonu, više od 10 godina fotografira na triatlonskim natjecanjima (6x bio na Ironman Hawaii Ironman), a objavljuje fotografije u svim najpoznatijim europskim i svjetskim sportskim časopisima.
Michael Rauschendorfer - Speedepic
Delly Carr  - 22 godine profesionalnog fotografskog iskustva, najpoznatiji australski samostalni sportski i triatlonski fotograf
Iri Greco & Jim Fryer José-Luis Hourcade

Eric Lars Bakke  - 24 godina fotografira za časopise Sports Illustrated, The Wall Street Journal, National Geographic i Fortune
Sammy Tillery   - LAVA triatlonski časopis
Jay Prasuhn - Njegov portfolio uključuje Tour de France, Tour de Suisse i NASCAR, uz opsežan katalog multisportskih događaja. Njegov rad se pojavio u Road Bike Action, ROAD Magazine, 220 Triathlon i Inside Triathlon.
Larry Rosa  - Sports Illustrated, ESPN Magazine, Runner's World i Inside Triathlon
Tony Svensson - Osim što je fotograf, 6x je završio Ironman Hawaii. Iza njega su više od dva desetljeća fotografskog iskustva na svim kontinentima. Osim triatlona također i NCAA i NFL.
Jero Honda -  fotografirao je na Ironman Svjetskom prvenstvu od 1984. i na Olimpijskim igrama u Sydneyu; foto direktor za Triathlon Trip Magazine